Pymble is an affluent suburb on the Upper North Shore of Sydney in the state of New South Wales, Australia. Pymble is 16 kilometres (10 mi) north-west of the Sydney Central Business District in the local government areaof Ku-ring-gai Council.[2]
Transport
Pymble railway station is on the Sydney TrainsNorth Shore, Northern & Western Line.
Transdev NSW buses operate route 579 from Pymble Station (departing Grandview St) to East Turramurra (peak hours only) and route 560 from Gordon Station to West Pymble (half-hourly service).
Route 575 also operates along the pacific highway past the train station (half-hourly service). It goes to West Pymble & Macquarie southbound & to Turramurra & Hornsby northbound.
There is a taxi stand on the eastern side of the station in Grandview Street.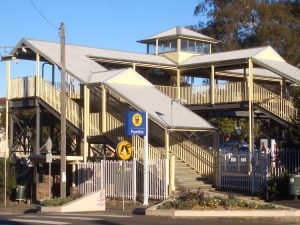 Schools
Pymble Ladies' College (K-12)
Pymble Public School, a government primary school, located on Crown Road whose alumni includes actors Hugh Jackman and Chris Lilley
Sacred Heart Catholic Primary School (K-6)
Gordon West Public School (K-6) located in West Pymble (in a precinct formerly called West Gordon)\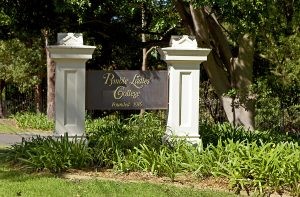 Parks and recreation
Pymble Park is located on the eastern side of the railway behind the shops in Grandview Parade. This park features many large trees, tennis courts, an enclosed playground and amenities.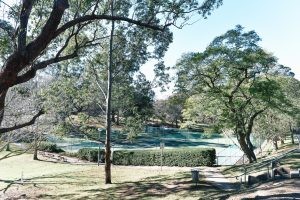 Bannockburn Oval, located in Bannockburn Rd, is a large sports field catering to athletics, cricket, soccer, rugby and other sporting activities.
The Pymble Soldiers Memorial, located on Mona Vale Rd, is a memorial park dedicated to lives lost in all wars featuring rose beds, formal terraces and a hilltop view.
Dalrymple-Hay Nature Reserve on Mona Vale Road is one of the last remaining blue gum high forests in Sydney. Visitors can "escape from the busy rush of Sydney life with a walk among the majestic tall blue gums and blackbutts. Check out the large hollows in the tree trunks as they burst with colours of the beautiful native birds, such as king parrots, rosellas and lorikeets".
There are also numerous untouched bush reserves which offer a taste of the original natural beauty of the region. Some include walking paths such as the Sheldon Forest track accessible via Warragal Road. "The track meanders through blue gum tall forest on the ridge tops, riparian forest along the creeks and open forest woodlands on the hill slopes. Sheldon Forest is of high conservation status because it contains some of the last remnants of the endangered ecological communities of Sydney Turpentine Ironbark Forest (STIF) and Blue Gum High Forest (BGHF)"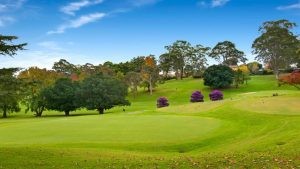 Above information has been sourced from Wikipedia, the free encyclopedia.